Pediatric Dentistry Northridge Advanced Detistry
Introducing children to the world of dentistry might not be as easy or simple, as one may imagine it to be. Children tend to get scared with the idea of doctors, ask and endless stream of questions about anything and everything and above all, display one of the slackest habits when it comes to dental care and hygiene. The results of course, can be harmful, if not disastrous. Children should be taught about the importance of oral care and dental hygiene, right from their early years, so that they can start early with the habit of caring for their teeth.
At Northridge Advanced Dentistry, a group of qualified dentists, which includes Dr Isaac Kashani, will help you understand the importance of pediatric dentistry and also see if they can help convince your little one about taking care of his teeth from an early age. We understand that nothing is easy when it comes to handling little ones and making them understand about the importance of something. We can help you do that since children are sometimes susceptible to listening to others, when they are too stubborn to listen to their parents. We will try our best to help your child develop good dental habits and also take care of their teeth, when you bring them for a visit at our clinic.
Your child has a future full of promises to look forward to. We want them to succeed at every endeavor in their life and smile with confidence, when they make you proud. Pay us a visit with your child today, to help us deliver the best pediatric dentistry services for him.
Who is a pediatric dentist?
A pediatric dentist is a dental expert, who handles cases of oral health related to children. At every stage, a pediatric dentist will evaluate the facial growth of your child and monitor the progress of his teeth. This is important because teeth have a large influence over the appearance of facial features and anything going wrong with the way they come out, could dampen your child's appearance.
At Northridge Advanced Dentistry, Dr Isaac Kashani is qualified in the field of pediatric dentistry, along with a bunch of other professional dentists. Their capability establishes them as one of the most desirable dentists in town. Here are some of the qualities of their dental services, which highlight the importance of connecting with a pediatric dentist, from an early age.
They provide complete oral care routine for your child and administer preventive services.
Based on the dental condition of your child, they might be able to recommend dental health programs so that the risk of developing any dental problems may be minimized.
Received guidance about the expected growth and development of your child's teeth and how to know when you should pay your dentist a visit.
Learn what a dental emergency looks like, even when it does not.
Receive complete dietary consultation depending on your child's individual case.
Get complete examination of your child's teeth from time to time, to dispel the possibility of catching dental infections and falling prey to dental cavities.
Everything that you need to know about pediatric dentistry
At Northridge Advanced Dentistry, a group of professional dentists help you and your family so that you can lead a life full of healthy smiles and never have to worry about tooth related problems. In order to achieve a healthy smile for all your family, we offer a host of services, each of which target a specific dental problem that you might be facing, or might fall prey to.
Specifically for children, our pediatric services are delivered by Dr Isaac Kashani and their team, with the main target to help your child lead a problem free dental journey. Let us take you through a brief journey of our own, at Northridge Advanced Dentistry, which will help you understand the reason why we will prove to be the best choice for your child's dental care.
Leaping towards the first visit
It is very important not to throw a strict and formal approach towards dental hygiene at children. For your keen kinder gardener, our dentists will adopt a very friendly approach, which we are sure that you would approve of. Before leaping to any procedures or treatment, it is important to make your child feel comfortable and relaxed. We will try to examine your kid's teeth, only when he is comfortable with our team and feels willing to let us find out the problem with his teeth. This visit will be filled only with happy and fond memories, so that your kid might remember us and be willing to come in for his second or repeat visit.
If you would like to know as to when you should first bring in your child to our clinic, make sure that you bring them to us at the first appearance of teeth or their first birthday, whichever might fall earlier. From there on, you should make it a habit to bring them often and regularly to our clinic, so that we can diagnose any dental problems before they take the mammoth shape of tooth decay or infections. Introducing your child to quality pediatric services from an early age has the advantage of educating them about the importance of dental care. This way, you can also improve their chances of adopting a proactive approach towards cleaning their teeth and taking care of them, even at later stages of life.
Adopting preventive treatments
As you might have already heard about, prevention is better than cure. Therefore, we like to provide preventive dental care to children from an early age, such as fluoride treatment and tooth sealants. Every time, when you visit our clinic with your child, our dentists will examine your child's teeth and ensure that everything is in order and their gums are healthy as ever. We believe in taking this conservative approach towards dental care for children so that they might not have to undergo extensive dental treatments at later stages of their lives.
Turn the tide with restorative dentistry
During childhood, cavities might perhaps turn out to be one of the most common dental issue to haunt your child. At our clinic, we can help your child undergo treatment for composite fillings, crowns and anything else that might bring your child out of pain and help him recover from the effects of the dental issue. Also, during childhood, your child might have to constantly go through the trouble of rocking teeth, when their milky teeth begin to leave their place. Our restorative treatments can help your child wade through this phase with ease and spare him the usual discomfort that children face during this time.
Available for you during an emergency
With children, you never know when you might have to avail a dentist's help with broken teeth or accidental damage to teeth. Your child might face several unexpected issues with his teeth and as a result, might have to sustain intense pain and discomfort while his agony lasts. We can help you with such situations and ensure that when your child needs emergency services, he has access to the best dental care in town. For this, you should be aware of conditions under which you should give us a call. If anything happens, which makes you feel that your child needs immediate dental care, do not hesitate to rush your child to our clinic and help him get the aid that will remove his pain.
Help teeth come out naturally
In the growing stages of a child, one of the most crucial problems that parents face with their children is their teeth. When milky teeth leave their place and give way for permanent teeth, many things can go wrong and give a hard time to your child. In order to ensure that this does not happen, you can bring your child at our clinic on a regular basis, so that we can examine him from time to time and ensure that no such problem might trouble your child. For this purpose, we might even prescribe space maintainers for your child. This will ensure that your child's teeth grow back in their right place.
We are a trusted destination for child care and dental treatments in Northridge, California. When your child needs any help with his teeth, be sure to knock our doors and get him the help that will help his teeth.
Scheduling a dental appointment at Northridge Advanced Dentistry
At Northridge Advanced Dentistry, every appointment for pediatric dentistry is scheduled at the convenience of the patient. Therefore, you can schedule an appointment to visit Dr Isaac Kashani at your comfort. However, we request you to visit our clinic only with a prior appointment so that you or your child may not have to wait for your turn to meet Dr Isaac Kashani and their team.
While you bring your child at our clinic for an examination or check up, make sure that you yourself, or a guardian of the child is present during the treatment and examination. This will help the child in feeling comfortable with the treatment and help him relax, while our dentists check his teeth.
How can you pay for pediatric dentistry services at Northridge Advanced Dentistry?
At Northridge Advanced Dentistry, you can pay for your child's dental treatment through multiple payment options. We would be glad to accept payment for the treatment in cash, personal check, Master Card, credit cards of other banks, and dental insurance as well. Please note that the payment for the services provided by our dentists shall become due once the services have been administered to your child. We will make our best attempt to provide a hassle free treatment experience to your child and deliver the best possible care that he requires for the successful completion of his treatment.
We understand that the prospect of paying for a dental treatment might not be a comfortable one for you but we would like to assure you that you will receive the best services at our clinic and at the most reasonable fares that you can imagine. We hope to bring a positive change in your child's dental journey, along with man happy smiles and fruitful ventures.
Why choose Northridge Advanced Dentistry?
Obviously, when it comes to your child, we understand why you need the best dental care for him. It is quite understandable how you might not thing as often about your own dental treatment, as much as you think for your child. We would like to assure you that we are one of the most renowned and expert dentists in Northridge, California, with an excellent track record, that goes back to more than a decade's worth of positive expeditions by none other than Dr Isaac Kashani themselves, the pioneers, on whose competency, our clinic survives.
Take a look at the salient features of our services, which will help you decide why you should choose us over another dental clinic.
At Northridge Advanced Dentistry, you stand to receive the best dental care for your child, which is designed to provide a friendly and accurate attention to your child in a wholesome manner. Dr Isaac Kashani can never go wrong with pediatric dentistry, considering how important it is for your child to stay away from any pain or trouble.
With children, Dr Isaac Kashani express fond care and love, as if they were their own children. We understand how precious your child is for you and we would never want any harm to come his way, and definitely not because of his teeth. We take great care to deliver the best dental care and targeted treatment for your child, so that he can continue to smile without any worry.
Treat yourself to a calm and relaxing environment, when you come to Northridge Advanced Dentistry clinic, a place where your child will feel at home. With dedicated offices to attend to your queries, you will never feel the need to find another dentist for your child.
Dr Isaac Kashani lay stress on the importance of good dental habits for your child, something that instills good habits in him and help him understand the importance of being obedient with his dental habits.
We will also provide you with a customized dietary pattern that you should follow for your child, so that his teeth do not suffer the wrath of bad eating habits.
We are always available for consultation over phone so that you can reach us in less than a minute.
Preparing for your first visit at Northridge Advanced Dentistry
Although you are most welcome to bring your child to our clinic for any matter, it is recommended that your child's first birthday should be marked with a visit to a dental clinic. Dental care is a matter of utmost importance and it would be unwise to leave matters related to your teeth, unattended.
You can walk in to our clinic at any time and inspect our infrastructure, facilities and even get to know our dental team, so that you may feel confident about bringing your child for his first visit, to our clinic.
When you come in, you will be given a tour of our office and you will also get to meet our dental experts, who shall be handling your child's case. As against a regular dental process, we would recommend a knee to knee examination for your child, wherein, his head will rest on our dentist's laps and his body will rest on your lap. As soon as the dentist dispels the existence of any problem with your teeth, you will be given special oral care instructions for your child, along with special guidelines, which will ensure that your child does not face dental problems in the future.
Dr Isaac Kashani is professionally qualified in the area of pediatric dentistry and with their many years of experience, you can entrust the health of your child with them. We have already provided pediatric dentistry services to more than hundreds of children so far and here are their reviews and testimonials, for you to read and decide if we are worth your trust.
We are a leading dental health care platform, where patients arrive not only from Northridge but also from surrounding environs, and avail many dental treatments, as per their necessities. If you feel that your child requires immediate dental attention, do not hesitate to bring him to our doors and get him examined from one of our experts. We are sure that we will be able to deliver best dental services to you and to your child.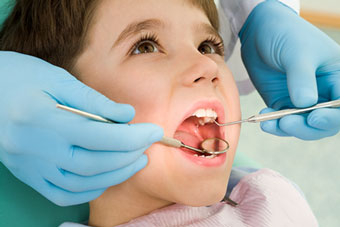 The most common question a new parent has for the dentist is, "When should I take my new baby to the dentist?" Guidelines say as early as six months, even though the baby may not have any teeth, just to get the baby acquainted. The latest should be no later than the baby's first tooth eruption. Prevention is key! Regular cleanings and Sealants are some of the best things that can be done to prevent cavities.
Pediatric dentistry requires a lot of patience from a doctor. Well versed in treating children, Dr. Isaac Kahen Kashani knows how to connect with them. For many years Dr. Isaac Kahen Kashani dedicated one day a week to treating children in under-served areas, where in just one day, the average number of patients was 100. In this short time frame, Dr. Isaac Kahen Kashani completed over 50 fillings, 50 extractions, and 15 baby root canals on those patients.
We offer porcelain crowns for pediatrics as opposed to silver crowns other doctors place. We also offer baby dentures for patients who have had several teeth extracted. We also make metal free space maintainers.
Call (818) 751-5100