Crowns Northridge Advanced Dentistry
Dental problems can wreak havoc on your daily routine and compel you to suffer pain and discomfort with every little task that involves the use of your teeth. Your teeth are here to stay with you as long as you live, which makes them ever more precious. This is the reason why any dentist will ask you to take good care of your teeth, before they fall prey to any infections or decay.
Dental crowns are a common and popular dental procedure, which is carried out by dentists all over the world. It is a common solution to multiple dental problems. The treatment is also offered at Northridge Advanced Dentistry, a leading dental clinic in Northridge, California. Want to know how we administer the treatment and which dentists will handle your case? Get to know more about dental crowns below.
What are dental crowns?
A dental crown is a fixed prosthetic that can eliminate major dental problems that you might be facing. Dental crowns are suggested by Dr Isaac Kashani is of our most senior and experienced dentists, when the extent of damage and decay on your teeth is in excess, such that a regular filling might not be able to solve the problem entirely. A crown is shaped like the top half of a tooth, such that it can cover the cavities on your teeth. Sometimes, people also seek remedies for their chipped, broken and cracked teeth, in which case, dental crowns serve as a cosmetic restoration remedy.
Moreover, after your teeth have undergone a root canal treatment, they might become weakened, which can be fixed using a dental crown. This is the reason why Dr Isaac Kashani call dental crowns as an all round solution to multiple dental problems.
What are dental crowns composed of?
A crown can be composed from a variety of materials. Which type of material should be used in your individual case, is a decision that our dentists, Dr Isaac Kashani, will be able to make, only after examining your teeth and assessing your individual case. Most commonly, dental crowns are composed from porcelain or ceramic, which helps in maintaining the natural appearance of the tooth. Some other high end crowns are made from metal alloys and gold, which add more strength and resilience to your teeth and are best used in case the treatment is being administered for your molar teeth.
Your dental crown must fit on your teeth comfortably and should closely resemble the natural appearance of your teeth. For this reason, Dr Isaac Kashani will closely examine your teeth to decide the exact location where the crown has to be fixed, the relative position of the tissues of the gums your own preference regarding the material, the extent of tooth that will reveal itself when you smile, the natural shade of your teeth, and the function that the particular tooth plays in helping you chew your food and talk.
Dental crowns have come a long way and technology advances have contributed in a major way towards making this dental treatment an advanced and reliable method of treating dental problems. You can easily compare the advances that the field of dentistry has undergone by the mere fact that until few years back, the only solution available for broken and chipped teeth was to remove them, while today, you can easily get them fixed at an advanced clinic like Northridge Advanced Dentistry. Crowns can solve many dental problems that you might be facing, without costing you a fortune or giving you an abundance of pain.
Before you decide to get a dental crown for yourself, remember that we can provide both, permanent as well as temporary dental crowns. Temporary crowns are recommended when you need to undergo some other restorative dental procedure on your teeth while permanent crowns are covered on your teeth and last with you for more than a decade.
Why do you need a dental crown?
Very often, patients do not understand the importance of seeking the advice of their dentists, before going in for a dental treatment. This causes a lot of confusion and unnatural expectations from the patient, about the results of the treatment. In order to avoid such situations, you must consult Dr Isaac Kashani at Northridge Advanced Dentistry about the treatment for dental crowns and the results that should be expected post treatment.
Dental crowns are most commonly administered when:
The patient has a large cavity that cannot be fixed with a filling.
The patient's teeth are missing and a bridge is the solution for the missing teeth.
The patient requires covering his dental implants.
The patient has weak, cracked and broken teeth.
The patient has undergone a root canal treatment which requires a crown to protect the tooth.
The patient wishes to cover up his discolored teeth or a tooth that is shaped badly, to improve the appearance of the teeth.
The patient requires a replacement for a filling.
The patient suffers from tooth decay, cavities or dental caries.
Understanding the placement of a dental crown
Placing a dental crown on your tooth is a simple process but requires experience from a dentist, to place the crown correctly. There are a few steps involved in the process of setting the crowns in their place and would require up to three sittings to complete the whole process.
Take a look at the steps involved in completing the process of placing a dental crown.
Dr Isaac Kashani will start by preparing your teeth. At this stage, the outer section of the tooth will be removed so that the crown can be fixed at its place. This step has to be carried out very carefully and care has to be taken to remove any decay as well, so that it may not remain behind, to damage your teeth. After removing the original structure of the tooth, if Dr Isaac Kashani feel that some additional support might be required to support the dental crown, they might add some building material at the base of the tooth.
After this, Dr Isaac Kashani will take an impression of your teeth, which will be used to make your crowns in a laboratory.
Usually, it takes up to two weeks for your crowns to be made in the laboratory and to arrive at our clinic. In the mean time, Dr Isaac Kashani might fix your teeth with temporary crowns, which will help you carry out normal functions of daily life. An absolute precaution to be taken during this time is to avoid chewing on sticky foods and consuming very hot or cold food items, which might cause excessive sensitivity on that particular tooth.
Dr Isaac Kashani will ask you to come over to our clinic, once your laboratory made dental crowns arrive. Then, they will place these crowns in your mouth and check if they fit well. Once you feel comfortable with the placement of the crowns in your mouth, they will be cemented in their place.
Taking care of your dental crowns
It goes without saying that you must observe complete care of your teeth and follow a strict dental regime, once your treatment is complete. This is recommended to every patient so that they may not have to come in for re – treatment, which might be unavoidable if your teeth fail again and catch another infection or fall prey to decay. In order to avoid recurrence of the situation, include the following tips in your daily routine so that you can maintain your teeth in optimum shape and good health.
Make it a habit to brush your teeth twice in a day. Flossing the teeth once in a day is also essential. This will help in eliminating all bacteria from your mouth. For this purpose, Dr Isaac Kashani might recommend some selective oral care products to you or you may ask for the same, at the time of your treatment.
For a few days after your treatment is done, avoid eating any hard foods, which might induce a lot of pressure from your teeth and cause you to bite them hard. You must also take care not to eat foods which have a very high or cold temperature, which might cause undue sensitivity to your teeth.
For optimum dental health, make sure that you visit your dentists, Dr Isaac Kashani at regular intervals and seek their advice regarding the state of your teeth.
Are you likely to feel pain during the treatment?
As with any dental treatments, this is usually the first question that every patient seeks to be answered by Dr Isaac Kashani at our clinic.
At Northridge Advanced Dentistry, the patients comfort and relaxation is of utmost importance. For this reason, whenever Dr Isaac Kashani administers any dental solution, every effort is made to avoid causing pain or discomfort to the patient.
During the treatment, it is common to feel some sharp pains when an injection might be inserted in your gums for administering local anesthesia. If the thought of this troubles you a lot, you might also ask Dr Isaac Kashani if they can provide a painless tropical anesthetic to you.
Some degree of pressure is common when our dentists might try to fix your crowns. At this point, it is best to try and relax yourself and avoid thinking too much about the procedure, which might be the only way to avoid the discomforting sensations.
Are there any risks and problems associated with dental crowns?
Crowns are perhaps one of the most common dental treatments that are administered to patients all over the world. Given their common nature, it is hard to go wrong with any aspect of the treatment, which is why, the incidence of risks and problems associated with the treatment are quite low.
However, to be on the safe side, Dr Isaac Kashani might always recommend their patients to watch out for any symptoms which could point towards a potential problem point after the treatment has concluded.
Here are some of the possible risks and problems that are likely to cause a problem to a patient:
Facing an allergic reaction to the treatment.
Injury to the blood vessels due to the anesthesia.
Chipping or loosening of crowns
Incidence of infection in the tooth
Undergoing an injury in the mouth
Falling out of crown
Extreme sensitivity to the teeth from hot or cold food items.
There are only a few rare cases when these incidents might happen and in order to avoid them, patients can take few precautionary measures, which might save them from facing these situations. Take a look at some of these measures, which might save you from troubles with your crowns in the future:
As recommended by your dentist, follow a regular schedule of activity and lifestyle restrictions, both, during and after the treatment has concluded.
Dietary restrictions might be recommended to you by Dr Isaac Kashani and it is always wise to follow them, since eating has a direct impact upon the state of your treatment.
In case of women, it would be wise to inform your dentists if you are pregnant.
If, after the treatment, you begin to notice fever or any other medical condition which does not seem to occur for any apparent reason, you must inform the same to your dentists at the earliest, since it might be a sign of infections.
Facing difficulty in chewing food is another condition which you must inform to your dentists.
Always consume the prescribed medicines in the exact dosages as recommended to you by your dentists.
If you have any existing allergies, you must inform your dentists about the same, so that they can take care of them while administering the treatment.
When preparing yourself to undergo a treatment for dental crowns, make sure that you answer all questions asked by your dentist, correctly and accurately. This may be important to ensure that nothing goes wrong with your treatment. If you have any existing prescriptions or medications that you consume, it will be a good idea to carry a note of the same with you, when you come for a visit at Northridge Advanced Dentistry. After this, make sure that if Dr Isaac Kashani ask you to regulate the consumption of a particular medicine, you follow their directions.
It will also be a good idea to get all your questions and doubts about the treatment cleared from Dr Isaac Kashani, before they start operating on your teeth.
Why choose Northridge Advanced Dentistry?
Since crowns are one of the most common dental treatment which is administered all over the world, it is common to come across a number of dental clinics where the treatment is offered. However, we hope that you understand that you cannot settle for any random clinic simply because the treatment if offered there.
Always go for a trusted name when it comes to your dental treatment. Northridge Advanced Dentistry is a trusted name in Northridge, having treated more than a thousand patients now. We have secured the satisfaction and trust of each of these patients with consistent delivery of quality services and an assurance of reliability.
At Northridge Advanced Dentistry, the aim is not just to make revenue out of patient's treatments. We strive to deliver healthy smiles among each of them, so that they can lead better and satisfied lives. For this reason, our treatments are offered at very reasonable prices. We want our patients to be able to afford paying for the dental treatment that they need to undergo. You can come and contact us for various payment options for your dental treatment so that we can help you.
When it comes to the type of dentists that we have empanelled at Northridge Advanced Dentistry, you would be glad to know about Dr Isaac Kashani, who are two very professional and qualified dentists. It is because of them that we currently boast of a team of ten dentists at our clinic, all trained and supervised by Dr Isaac Kashani. This gives us immense confidence and trust in the abilities of our dentists and their ability to help our patients lead a better life through their efforts. If you wish to know more about dental crowns and how the treatment is administered at Northridge Advanced Dentistry, feel free to connect with us!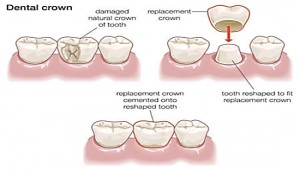 In our office, we employ the best crowns possible. The chain is only as strong as the weakest link. Our impression materials (mold-taking materials) are the best in the market and take impressions with virtually no degree of error. This is important because if a cheap impression material is used, the lab will not have a great mold to work with to make a perfect crown for that tooth. The lab has to be very carefully selected so they use only the best materials to make perfect crowns that fit the tooth perfectly. If a crown is not made to fit a tooth perfectly, it will have micro-leakage, will eventually have decay under it, and can even turn into a root canal if it is not monitored. We take pride in taking perfect impressions that lead to perfectly fitting crowns.
All porcelain crowns are used in most applications. We have a variety of full porcelain crowns. We fabricate Full E-max crowns (most durable for esthetic zone) perfect for patients who are grinders at night in the esthetic zone, Lava crowns (A hard Zirconia base, harder than metals, with traditional layered porcelain on top) which are perfect for molars and premolars, and Full Zirconia crowns (BruxZir) for patients who are severe grinders (Bruxism patients). Unless a situation occurs in which it is the patient's best interest to have a crown that is porcelain on the outside and gold on the inside (no gold is visible), we would recommend these crowns. This could occur if a patient experiences a lot of bone loss or recession, then a full porcelain crown is not the best because it cannot be cleaned well.
Call (818) 751-5100