Implants Northridge Advanced Dentistry
When our teeth do not function as expected or some corner of our mouth faces a problem which hinders the natural functioning of the mouth and the teeth, we are bound to feel uncomfortable. Our teeth are bound to stay with us for our entire life time, from the time that they come out at a young age. Therefore, it becomes all the more important to ensure that they remain in a good state, if only to ensure that we do not face any difficulty while eating food or talking. At Northridge Advanced Dentistry, a team of specialists, including Dr Isaac Kashani, handle all cases of dental treatments, including implant dentistry, which is among the most common dental solutions which we offer at present.
Get to know more about implant dentistry and treatment methodologies for the same, which are delivered at Northridge Advanced Dentistry.
What is implant dentistry?
At present, almost every other person in the United States alone is victim to one or more missing teeth. Missing teeth have the negative impact of giving you a less than satisfactory appearance, which not only lowers your confidence and self-esteem but also renders you feeling conscious in front of people. Normal tasks like speaking, smiling and laughing, become limited and censored. Most people feel that missing teeth is a serious limitation on their personality and puts them behind in the competition of life. If you are also presently facing the same condition, then it is perhaps time for you to come and visit us at Northridge Advanced Dentistry.
With confidence, we can tell you beforehand that our expert dentists, Dr Isaac Kashani have a solution to your missing teeth and they can ensure that your uneven smile will not linger any longer. Implant dentistry is the surest way to re build your striking personality with a complete set of teeth. At Northridge Advanced Dentistry, implant dentistry can be administered by Dr Isaac Kashani to replace your missing teeth, both, above and below the gum line. Implant dentistry is a type of dental restoration process that is different from any other type of dental treatment. You can ask Dr Isaac Kashani to provide implant dentistry for your teeth, using which, they can replace either a single tooth, a few teeth or even an entire mouthful of teeth through accurate implant dentistry.
At most dental clinics, you will be told a harsh truth because of which, you will have to avail only part treatment at the dental clinic, and the other part of the treatment elsewhere. As against this, at Northridge Advanced Dentistry, you will be happy to know that the entire dental treatment for implant dentistry is provided by Dr Isaac Kashani, in house, within our office premises. Our clinic is equipped with every state of the art machine and tools that need to be used while delivering a treatment for implant dentistry. Reclaim your smile and find confidence once again at Northridge Advanced Dentistry, the super speciality dental clinic, which offers a host of dental services to its patients, at the comfort of its clinic.
Find the most comprehensive solution for Implant Dentistry
At Northridge advanced dentistry we offer a holistic range of Dental Services which includes implant dentistry. Our dentists Dr Isaac Kashani, pay close attention to every single detail of your implant dentistry treatment. You can walk into Northridge advanced dentistry and ask Dr Isaac Kashani or any other designated dentist at our clinic to provide a complete implant dentistry treatment.
Take a look at the features of our implant dentistry which will help you understand more about the method of treatment administered at Northridge advanced dentistry
Implant systems: Our in house implant systems are designed to deliver state of the art, exceptional, durable and reliable results each time Dr Isaac Kashani perform the procedure of implant dentistry. Using advanced tools and Technology, Dr Isaac Kashani are able to draw predictable clinical solutions to your missing teeth.
Restorative solutions: Each restorative solution at Northridge advanced dentistry is designed to remain patient specific so that you can get holistic treatment at our clinic. Using advanced technology, we are able to mimic the regular and normal functions of the teeth which helps us in delivering advanced Dental solutions to your missing teeth. Our restorative solutions are designed to give you complete freedom of choice and the satisfaction to make your teeth appear as you choose.
Digital planning: We welcome you to go through our portfolio of past patients and treatments, which we have administered in the past. Using advanced tool and Technology, Dr Isaac Kashani, are equipped to provide predictable solutions to your implant dentistry treatment at Northridge advanced dentistry. This improve the stability of our dental treatment and the expected outcome from the same.
Regenerative solutions: At Northridge advanced dentistry we have developed a host of products which provide long term and reliable solutions to your missing teeth. With the help of these products, Dr Isaac Kashani, will be able to bring more stability in the bone structure of your tooth structure. These products make use of high end technology which has the result of strengthening your teeth.
What is the average cost of implant dentistry?
At Northridge advanced dentistry, you can get access to one of the most reasonable and affordable dental treatment in Northridge, California. However, it goes without saying that most patients, feel more confident about their implant dentistry treatment, once they are aware of the related costs of the treatment. Getting to know about the average cost of implant dentistry in the United States might not be of much help to an individual patient. This is mainly because the overall cost of implant dentistry can vary from patient to patient and also depends upon a number of factors. If you are considering going for an implant dentistry treatment at Northridge advanced dentistry, then we strongly advise you to connect with us and seek recommendation from Dr Isaac Kashani.
However, in order to determine is implant dentistry will be a financially feasible dental treatment for you, let us take you through some of the most essential and common factors which will be accounted for, while deciding the cost of your implant dentistry treatment.
The expertise of the practitioner performing your implant dentistry will play a major role in determining the overall cost of your treatment. At Northridge advanced dentistry, Dr Isaac Kashani, are the top dental experts who performed implant dentistry treatment supervise the treatment which are performed by other dental experts at our clinic. However, sure that at our clinic the most affordable and economic solution to your missing teeth.
The use of a typical material also determines the cost of implant dentistry treatment. Usual implants are composed of Titanium but Dr Isaac Kashani can also accommodate your request for another type of material for your implants. Ultimately the choice of material for your implants welcome to determine the overall cost of your implant dentistry treatment.
If any additional procedures are performed by Dr Isaac Kashani before beginning with your treatment, it is possible that the overall cost of your treatment may also increase. This can happen in case of extraction of tooth or grafting procedures, which may be necessary for the successful performance of Implant dentistry treatment.
The number of implants which your teeth require, also impacts the price of the overall treatment. If you need more than one implant, the associated cost of your treatment will increase proportionately.
Depending on the material and the associated costs that it takes at the lab to make the implants, the cost of your treatment may vary.
Several additional costs could be associated with carrying out various X rays, CT scans, tooth extraction, bone grafting, attending costs, and more. For a more detailed explanation about the expected costs of your implant dentistry treatment, we suggest that you get in touch with us through our front desk, where our friendly staff will be able to guide you better about the cost of your treatment.
Some vital questions about implant dentistry which you would like to be answered
Have you got some questions about a typical implant dentistry treatment that you would like Dr Isaac Kashani to answer for you? Here are some of the most common questions that patients usually ask from them, answered for you to save your time. For any other query, feel free to reach out to us at our clinic.
What is the usual process of a dental implant? Dental implants are perhaps one of their only type of dental treatment which take up to a year's time to complete in totality. The treatment might be spread over a year and may include multiple sittings as the treatment progresses. The treatment begins with the placement of the implant beneath the gums of the patient, after which, the lining of the gums is surgically closed. After this, the gums require a period of six to eight months to heal and only once they have healed completely, any further process can be carried out. Dr Isaac Kashani will ask you to visit them regularly to assess the condition of the implants and asses if they have fused properly with the jaw. Once they decide that the healing process is complete and the implants have fused properly with the jaw, the final restoration process will be carried out, during which, the crown, bridge or denture is fixed over your implant.
What material are dental implants composed of? Usually, dental implants are composed of titanium which is a highly compatible material for this purpose, and promotes the growth of the bone tissue. This is turn provides a more durable foundation for the resulting restoration. Some patients, who might be allergic to metals, which is why, they may have to be treated with ceramic implants.
How many teeth can implant dentistry replace at any time? Dental implants can be used to replace a single or two and even the entire arch of the jawline, on the top or the bottom. So, no matter how many teeth require replacement, you can always rely upon dental implants for a solution.
What is the duration for which dental implants last? When the procedure for implant dentistry is carried out by Dr Isaac Kashani at Northridge Advanced Dentistry, the sturdiness of the treatment will prove to be good enough to last with the patient for many decades and even for the entire lifetime of the patient. The only reason why your dental implant might fail is poor dental hygiene, which can lead to failure of implant and problems in the implant. People who smoke and consume tobacco might also place themselves at a higher risk of implant related problems.
How to know if you are an ideal candidate for implant dentistry? Well, there are no typical ways in which we can tell you before hand, if you would be an ideal patient for availing an implant dentistry treatment. The best way to make judgement about the same, is to come and visit Dr Isaac Kashani at our clinic, who will check your teeth and assess their condition to estimate if you would be an ideal candidate for a dental implant. During this assessment, they will also consider the state of your teeth and ask you about your expectations with the treatment. If they determine that you are ready to get treated with dental implants, they will help you understand more about the procedure and guide you about the next stage of the treatment.
As already discussed above, there are a number of factors which determine the cost of the treatment for implant dentistry. In some cases, Dr Isaac Kashani might recommend the use of dentures, when a large number of teeth have to be replaced using a typical crown and implant method. This might prove to be more cost effective and ideal for you, depending on the duration of the treatment and the costs involved. You can get to know more about both types of treatment at Northridge Advanced Dentistry or else, ask us to schedule an appointment for you, with Dr Isaac Kashani, who will be able to guide you thoroughly about the treatment.
Dr Isaac Kashani are qualified with top degrees and educational qualifications in the field of dentistry, which makes them the undisputed experts in this field. They have been working at Northridge Advanced Dentistry for the past decade and during this duration, they have proved their acumen with endless cases, both simple and typical. We, at Northridge Advanced Dentistry, feel proud of their accomplishments and the fact that they are empanelled at our clinic to help patients in Northridge and surrounding areas, with their store house of experience and skills.
They have successfully handled and treated a wide array of cases, which included treatment of dental implants. It is through the positive expression of testimonials and gestures of gratitude from the patients availing the treatment that we deduced the immense response that we received from them. Today, patients from all over Northridge and the surrounding environs, pay us a visit to avail our treatment from Dr Isaac Kashani.
At our clinic, payment for implant dentistry treatment is accepted in all major forms. We might also be able to accept certain insurance plans in payment for the treatment, for which, you will have to contact our front desk for available options. Our staff and all attending patrons are very friendly and will do everything to ensure that you are comfortable at our clinic. If you have any questions that might be bothering you, always feel free to get them addressed at our front desk. Also, we understand that the process of implant dentistry may not make you feel as comfortable as you might have wished for. You may have some questions or doubts about the same, which you would obviously wish to be answered by someone. Dr Isaac Kashani is always available to answer all your questions and help you understand the complete details about the treatment.
Implant dentistry treatment is one of the best dental treatments to replace missing teeth and get over the embarrassment that you feel while smiling. For the best solution for your smile, get in touch with us at Northridge Advanced Dentistry and allow Dr Isaac Kashani to handle your case.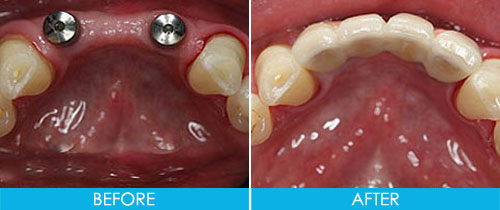 Implants are one of our biggest specialties at Lasting Impressions Dental Spa. There are some special implant placements that we do at our office, virtually nobody else may be able to do in the same way, especially because we have so many patented products in our office that only either our specialists or Dr. Isaac Kahen Kashani will use.

For implant placement in cosmetic areas, and for immediate results, Dr. Isaac Kahen Kashani prefers placing the Sargon Immediate Load Dental Implant for many reasons. The major reason is that the patient can appreciate the fact that they come in with a bad or no tooth, and can walk out of the office in the same day with a strong tooth. This is because once the patented implant placed into bone can be activated and expanded into the bone. This enables us to have primary stability, while the rest of the implant is healing. Furthermore, for cosmetic reasons, when placing an immediate load dental implant, and placing the crown also immediately, the gums will take shape around the tooth that is immediately placed. This helps us preserve the natural shape of the gums and provides a high-quality Natural Emergence Profile Tooth Replacement. While in case the gums are left to heal, and an implant is not placed immediately, the shape of the bone and the gums in the area change, flatten out, and the natural papilla (the v-shape of gums between teeth) is lost. When the immediate implant is placed, the papilla is preserved far better than if it were left to heal. Not everyone is a candidate for immediate dental implant placement, but everyone deserves to at least have a complimentary consultation to see if they are a candidate. Call our office to schedule your appointment soon.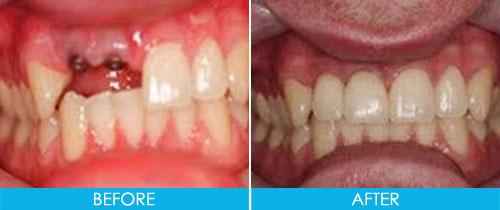 A Little About the Sargon Immediate Load Dental Implant
The bone that heals around the expanded area has even stronger bone around it due to an oscillating effect, according to histology reports. Furthermore, this very implant has kept almost the same design for the past twenty years, with only minor changes because it has always had a great success rate. Other implant companies change their design over and over again. Also, Dr. Isaac Kahen Kashani has full access to GENDEX ConeBeam CT scans with Anatomage InVivo software. "What does this have to do with me?" a patient may ask. Well, the software we use in our office allows us to place the implants into the bone in a three-dimensional form. This means we do the surgery on the computer software before we even do the surgery on the patient. We find the best bone with the CT Scan, and we place them digitally at the best angles and at the best distance from another tooth or another implant. If not placed in the optimum position, it could lead to the failure of that implant!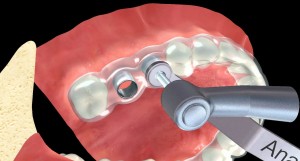 From that digital placement, we can make a stent to fit over the missing area that becomes a placement guide for the implant or implants, which goes over the gums and bones, guiding us into putting them in the exact place that we want. This method is much more precise than "free hand" placing implants. Not every case requires a stent, but Dr. Isaac Kahen Kashani will let you know whether one is required or not. Cone Beam CT scan means less radiation to the patient. The x-rays are funneled into a cone beam so that patient is not subject to much radiation. Another of our proprietary products is the Sargon Dental Implant. With this dental implant we can extract a tooth, place the implant, and place a crown on the tooth all in the same day. Dr. Sargon Lazarof invented this implant about twenty years ago and continues to place these implants with an overall average of a 99% success rate. Dr. Isaac Kahen Kashani has taken many hours of continuing education with The Sargon Dental Implant Institute and is very knowledgeable in placing same day dental implants.
What is a Bone Graft? Do I need a Bone Graft? 
A bone graft can be made of many materials that are placed in a hole or defect in the bone either caused by bacterial infection, extraction of a tooth, or both. We place bone grafts in different places where they are necessary. If a defect has four walls, such as a tooth extraction site, the area is clean of all granulation tissue (infection tissue), an implant will be placed very soon, and it is not in the aesthetic zone, then no, a bone graft is not necessary. However, it is usually better to be safe than to be sorry. Bone grafts are usually placed to preserve that site's bone, whether it is for aesthetics, or for future implant placement. At this point in time, and with our current techniques, very little can be done to add bone to sites where bone does not exist, and to gain height and width of bone for implants. Some of the shortest implants are about 8mm long and about 3.47mm wide. If the area is short of that amount of bone, then an implant cannot be placed into thin air! There is one exception to this, and that is in the upper jaw, in the back area. If one has no bone in the back, we are able to graft bone into the Maxillary sinus area, and place an implant there. That is the area of the upper jaw molars. This is an advanced procedure, and it is completed by the specialist in our office. Bone grafts take about 3 months to heal, and once healed, implants can be placed into them. Sometimes implants may be placed into the bone that is remaining and/or Sinus, or the bone graft can be placed around the implants and the sinus simultaneously. This way, there is only one waiting period of 3 months, and everything heals together, so the patient will be ready to place crowns on the implants in about 3 months.
What is bone graft made out of?
There are several different kinds of bone graft. We have found that the bone graft that works best is Bovine Bone, which is sterilized cow bone. The way it works is that the bone graft that we place there does NOT actually become part of your bone – it becomes a scaffold, and codes to the body to place its own bone there. Your own bone eventually remodels into place, and the Bovine Bone disappears.
Mini Dental Implants
Mini dental implants are usually used in places where there is not enough bone for regular size implants. Mini implants can also be used for denture-wearing patients. In the case of denture-wearing patients, two or more mini implants are placed and the denture snaps onto the mini implants like buttons, holding down the dentures. This makes for
more comfortable and more stable dentures, eliminating denture adhesives and pads that do not work as well. It is a great improvement in the lifestyle of a patient to be able to bite into foods and not having the dentures getting stuck in the food. If the patient has good fitting dentures, then there is no need to even make new dentures. Simply, the implants are placed and the buttons are fitted to the existing dentures. If the patient does not have good fitting dentures, then the doctor will let the patient know that new dentures must be made.
Call (818) 751-5100